Thanksgiving means friends, family, and feasts. But is also a time for possible distress for your pet. The house is full of (strange) people, and some of the food is not safe for your pet.
To have a happy celebration, if you have an animal companion, don't forget these thanksgiving safety tips for pet owners. And make sure your pet enjoys the holiday too!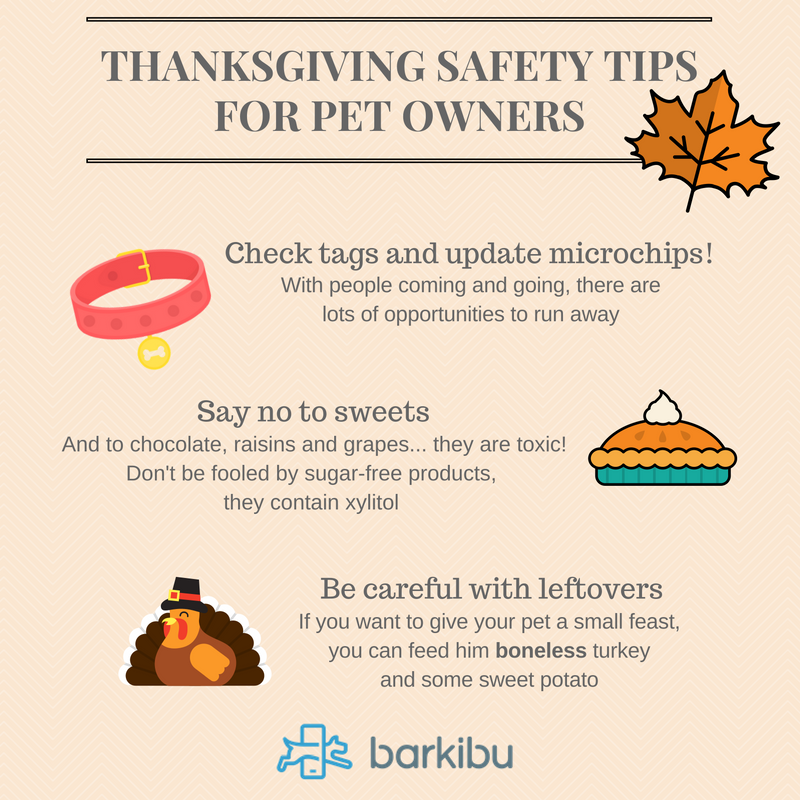 1. Check Tags and Update Microchips!
There will be lots of people coming and going throughout the day, which translates into lots of opportunities to run away. Whether you are hosting or traveling (especially the latest), make sure your dog or cat are wearing their tag with your current contact information. Also, if you have recently change your address or contact details, ask your vet to update your pet's microchip.
2. Talk to Guests
Remind your guests to be careful when opening the door, and not to give your dog or cat any leftovers. At least without consulting with you first! If your pet has any particularity (disease, allergies, behavior...) that they should be aware of, let them know.
3. Keep Toys and Treats at Hand
Keep your** pet entertained** and reward good behavior.Prepare a** "safe spot"** in your pet's favorite room with his or her bed and some toys. You don't need to close the door, just make sure he/she has a place to go if there is too much noise or distress. A crate might do, but only if your pet is already used to it. Remember it should never feel like a punishment!
4. Say No to Sweets...
Make sure your pets keep their noses out of the dessert. Sweetened foods contain an artificial sweetener called xylitol, which is very dangerous for pets. Don't be fooled by sugar-free or low-sugar products, most of them contain xylitol.
If you are baking, remember** sugar and chocolate are dangerous for pets too**. If ingested, they might show signs of vomiting, diarrhea, tremors, etc.
5. ... and to Raisins and Grapes
These are common ingredients in our favorite Thanksgiving foods but can cause renal failure to your pet. Remember the list of toxic foods you should never feed your dog.
6. But You Can Still Give Your Pet a Small Feast
If you want to celebrate Thanksgiving with your cat or dog, you can prepare them a special meal for the day. You can feed them a small bite of turkey, boneless and well-cooked (and preferably with no salt). Don't ever give your pet cooked bones! You can also give them some vegetables like sweet potato or green beans.
Even better! Stuff their Kong or good puzzle toy with it and have them busy for a while.
7. Easy on the Decorations
Be careful if lighting some candles, put them out of your pet's reach. Accidents may happen.
8. Don't Be a Lazy-Bones, Take Out the Garbage
Curious pets will dig through garbage for leftovers. Turkey bones can cause obstruction, which will probably require surgery.
If you are traveling and cannot bring your pet with you, make arrangements so your pet will be as comfortable as possible. Hire a pet sitter or take your dog to a dog hotel.